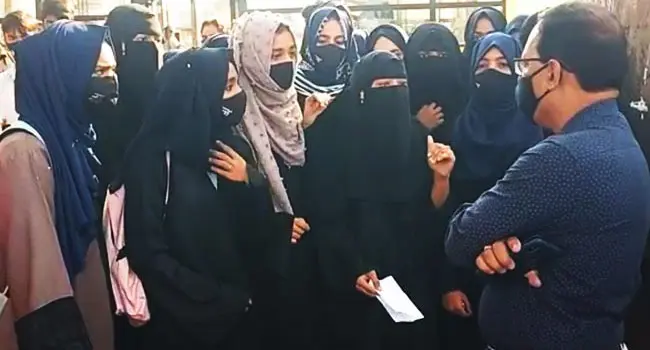 Muslim girls wearing hijab are being barred from attending classes at some schools in the southern Indian state of Karnataka, triggering weeks of protests by students
When the students were barred last month from entering their classrooms and told not to wear hijab, a headscarf used by Muslim women, they began camping outside the all-girls high school.
The story cascaded across the internet, drawing news crews to the front of the government-run school in Udupi district, in the southern Indian state of Karnataka.
Battle lines were swiftly drawn. The students began protesting outside the school gate and sat huddled in a group, reading their lessons. The school staff, which said the students were defying uniform rules, remained unmoved.
A month on, more schools have begun implementing a similar ban on hijabs, forcing the state's top court to step in. It will hear petitions filed by the protesting students on Tuesday and rule on whether to overturn the ban.
But the uneasy standoff has raised fears among the state's Muslim students who say they are being deprived of their religious rights. On Monday, hundreds of them, including their parents, took to the streets against the restrictions, demanding that students should be allowed to attend classes even if they are wearing hijab.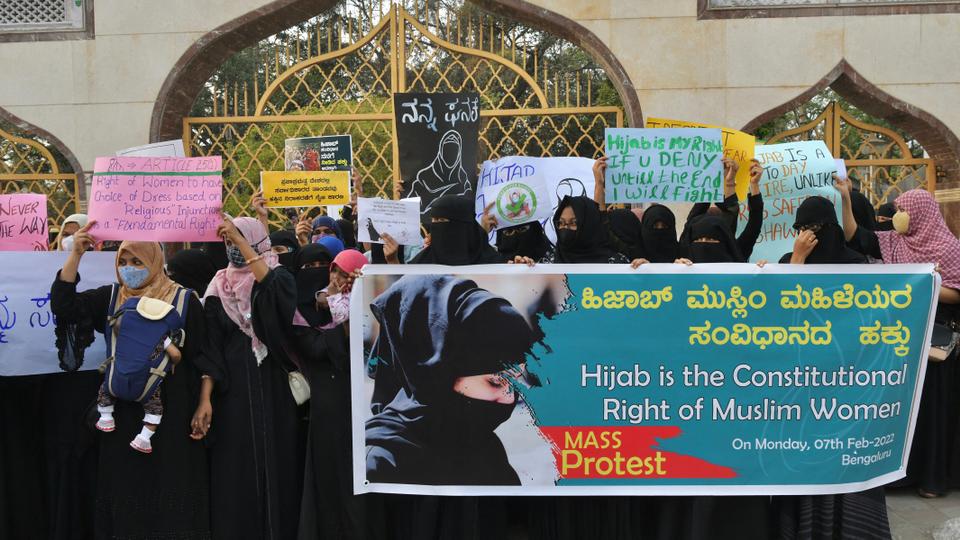 Outrage after hijab-wearing woman heckled by Hindu mob in India
Authorities shut educational institutions after protests over the ban on hijab intensify in southern Karnataka state.
A video posted on Twitter showing a hijab-wearing Muslim student being heckled by a Hindu far-right mob at a college in Karnataka state has caused outrage amid intensifying protests over ban on Islamic headscarves in the southern state.
Muskan Khan was surrounded by men wearing saffron scarves as she arrived at her college in Mandya, the viral video showed, as she confronted the protesters, many of whom, she said, were outsiders.
The ban on Islamic headscarves has outraged Muslim students who say it's an attack on their faith enshrined in India's secular constitution, while Hindu right-wing groups have tried to prevent Muslim women from entering educational institutions causing communal tension.
"I was just there to submit an assignment; that's why I entered the college. They were not allowing me to go inside just because I was [wearing] the burqa," Khan later told India's NDTV news channel.
"After that, they started shouting the slogan 'Jai Shri Ram'. (Hail Lord Ram). Then I started to scream 'Allah Akbar' (God is great)," she said, adding that she would keep fighting for her right to wear the hijab.
"Ten percent [of the protesters] were from the college but [the rest of them] were outsiders," Khan said.