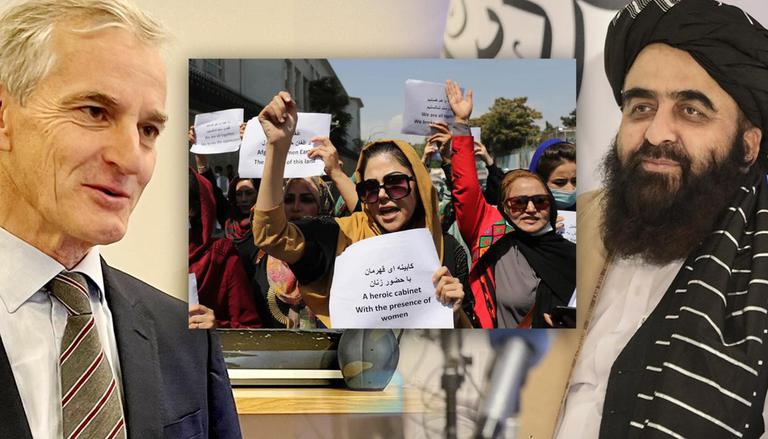 Afghan women in Norway on Sunday launched protests against the Oslo Summit, saying "step towards Taliban means step against people of Afghanistan."
Women in Afghanistan on Sunday launched protests against the participation of Taliban delegation in the Oslo Summit. The demonstrations were supported by human rights advocates, saying that the summit could be a step towards acknowledging the political legitimacy of the Taliban regime.
The delegation, headed by acting Foreign Minister Amir Khan Muttaqi, reached the Norwegian capital on January 23 to discuss the human rights and aid situation in Afghanistan and has been invited to take part in meetings until January 25, the Ministry of Foreign Affairs in Norway said in a statement.
As per reports, a group of women in Bamyan organised a protest march on Saturday against the Oslo Summit and questioned the need to extend an invitation to the Taliban. Demonstrators pointed out that despite previous similar summits in the Middle East, Russia and China the cad regime has failed to meet the preconditions of international recognition or acknowledge women's rights.
"The Taliban have taken our food, work, freedom, and education, and there is nothing left for the people in Afghanistan. Why would a European country want to hold a conference and invite this group when we are in such a situation," Muhadesa, a protestor in Bamyan told Afghanistan's Rukhshana Media.
"Every step taken towards the Taliban is a step taken against the people of Afghanistan," she added.
Meanwhile, people also took to snow-clad streets in Norway, demanding that the world break silence on the Taliban atrocities and recognize the real 'enemy' of Afghanistan. Norwegians raised slogans against the regime and urged the West to "hold a trial" against the Taliban.