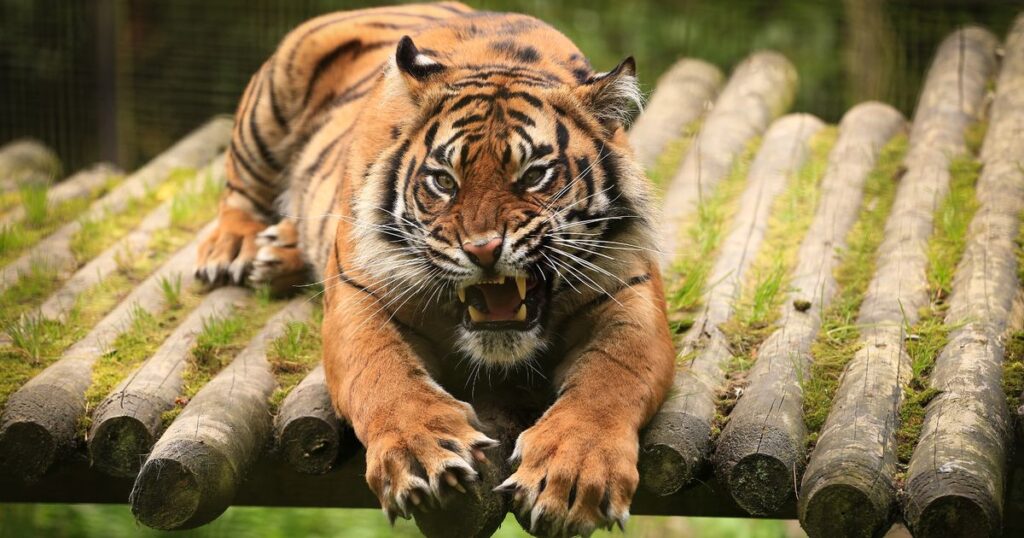 Bengal Tiger Attacks 3 Zookeepers After Faulty Door Left Them in Enclosure With 400lb Male
A Bengal tiger has attacked three zookeepers at a safari park in Japan after a faulty door meant they were in the same enclosure as the 10-year-old male.
According to Japan's state-run NHK (Japan Broadcasting Corporation) news agency, the tiger, named Volta, is almost 10 feet long and weighs over 400lbs. Police are currently investigating the incident at Nasu Safari Park in the Tochigi prefecture. It is thought the zookeepers were getting ready to move two tigers from the animal house into the outside enclosure before the park opened.
According to local news reports, zookeepers are normally kept separate from the tigers via a door. However, on the day of the attack, there was a problem with it and the keepers ended up being in the same space as Volta, which then attacked them. Local reports have said the zookeepers were hospitalized.
Newsweek has contacted Nasu Safari Park for comment.
A statement published on the park's website says that an "accident occurred in the tiger's animal house" where employees were injured. It said it was currently waiting for news about the condition of the zookeepers and was investigating the cause of the accident. It said the park would remain closed on January 5.
According to NHK, the safari park has over 700 animals, including about 70 big cats. These include white lions and tigers, which roam free and visitors can see from their cars in the park. It said there have been two previous incidents where zookeepers were bitten by lions. These took place in 1997 and 2000.
In 2021, the park posted footage of Volta and a lion enjoying the spring sunshine. Photos posted also show the tiger in his enclosure. It is unclear what will happen to Volta following the attack.
The attack on the three zookeepers in Japan follows a similar incident in Florida. The tiger, at Naples Zoo, was shot dead by a sheriff's deputy after it attacked a cleaning worker. The man, 26-year-old River Rosenquist, was hired by a third-party company and was not permitted to be near the tiger enclosure. It was thought he was either petting or feeding the tiger when he was attacked.
Police later released bodycam footage of the officer shooting the tiger to save the man. According to Naples Daily News, a necropsy of the tiger showed the bullet had traveled through its shoulder and the thoracic wall, and into the vessels at the base of the heart. This caused significant internal bleeding and the tiger died quickly