Euro international News : American billionaire Elon Mask once again surprised the users of the social network Twitter, which is now under his control, by publishing a tweet.
Elon Mask, the world's richest man and CEO of companies such as Tesla and SpaceX, tweeted a few days after taking over Twitter that he wanted to buy Coca-Cola.
It is unknown at this time what he will do after leaving the post.
"In the next move, I will buy Coca-Cola to get the cocaine back in," Musk wrote in the tweet.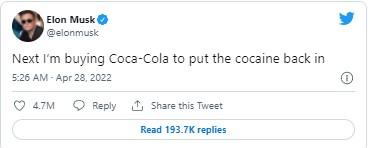 Who runs Twitter during Ilan Mask's tenure? How can he afford to buy Coca-Cola? These are questions that remain unanswered.
Elon Mask's tweet about Coca-Cola has received a lot of reactions; As of this writing, more than 121,000 people have commented on the tweet, while 400,000 have already retweeted it. The tweet also received about 3 million likes.
Some followers of Mask's account questioned his ability to make the deal, reminding him that Twitter's value was very different from Coca-Cola.
"According to economic estimates, Coca-Cola's value is estimated at $ 284 billion, while Ilan Mask's fortune is estimated at $ 268 billion," the users told Ilan Musk.