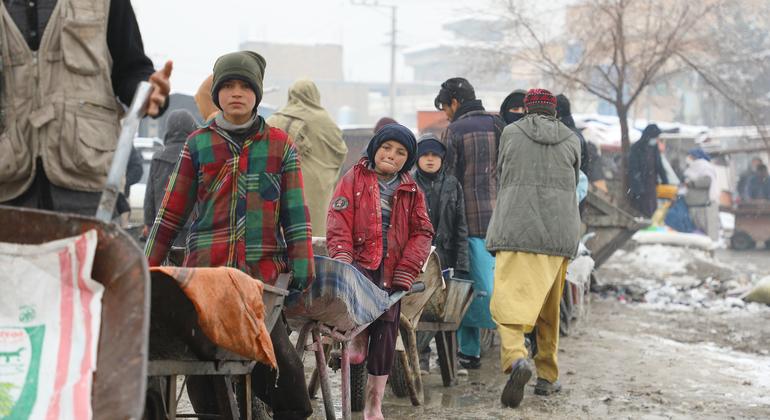 The Secretary-General said Afghanistan has long been unfairly used as a platform for political agendas, geopolitical advantage, ideological dominance, brutal conflicts and terrorism.
"As a matter of moral responsibility – and regional and global security and prosperity – we cannot abandon the people of Afghanistan."
Afghans need peace, hope, and help, and they need it now, he said.
The country's economy is collapsing amid another brutal winter, and daily life has become "a frozen hell". Over half of all citizens are facing extreme levels of hunger, and some families have been forced to sell their babies so they can buy food.
Meanwhile, sanctions and mistrust by the global banking system have frozen nearly $9 billion in central bank assets, and vital systems are starved of much-needed funds.
As the economy spirals downward, human rights are also losing ground. The UN chief highlighted the situation of women and girls, who are once again shut out of offices and classrooms. He also appealed for the release of women activists who were arrested or abducted recently.
Mr. Guterres reminded the Council that earlier this month, the UN launched a more than $4.4 billion appeal for Afghanistan to keep the food, education and economic systems from collapsing.
He urged countries to suspend rules and conditions that constrict both the Afghan economy and lifesaving humanitarian operations.
Accountability for cash
"At this moment of maximum need, these rules must be seriously reviewed," he said, emphasizing the need to pay public service salaries. He also welcomed the Council's recent adoption of a humanitarian exemption to the UN sanctions regime for Afghanistan.
The Secretary-General underscored the need to "jump-start" the Afghan economy through increased liquidity, including by freeing-up frozen currency reserves and through cash injections.
"Our team in Afghanistan stands ready to work with Member States and others to establish accountable systems to ensure that funds go to the Afghan people most in need, and are not diverted," he said.