The number of people suffering from "anxiety disorder" has increased by 15% since 2005. What are the symptoms of this disease and what can we do against this mental illness?
According to the World Health Organization in 2015, about 264 million people worldwide suffered from "anxiety disorders". But what kind of disease is anxiety disorder?
Anxiety or fear is normal and in some cases justified, because it protects us from danger. But "anxiety disorder" is a condition in which there is no known danger, but the person is afraid of something vague. From a rational point of view, anxiety is baseless, but the feeling is quite real.
Pervasive Anxiety Disorder
There are different types of anxiety disorder; For example, one of these diseases is "phobia" or morbid fear. Another type is generalized anxiety disorder. While in phobia, fear and anxiety occur in specific situations (such as fear of spiders or fear of flying), it does not occur in generalized anxiety disorder. In generalized anxiety disorder, fear accompanies a person like a shadow, like a ghost that is in the way of a person and may attack at any moment.
Of course, having anxiety does not mean that people with this type of mental illness are always in misery and misery. For many sufferers, having constant stress and anxiety becomes commonplace. Those who suffer from this type of mental disorder as adolescents learn over time to hide their anxiety and cope with it in their daily lives. However, anxiety does have its effects.
affecting factors
The likelihood of a person developing anxiety disorder depends on several factors. For example, women are twice as likely as men to have this mental illness. Some are more genetically predisposed to anxiety or stress. A person's living environment and experiencing psychological damage also play a role in the development and intensification of this disease.
Symptoms of this mental illness include fatigue, insomnia, and insomnia, and digestive problems. Anyone who feels that they can not get rid of anxiety for more than six months should consult a specialist. In addition, small changes in daily life can have a positive effect on overcoming or preventing the disease.
Sport
It is important to exercise two to three times a week for at least 30 minutes each time. It does not matter what sport we do. This sport can be showering, exercising in a sports club, playing football, swimming or any other physical activity. The important thing is that in this sport, there is physical activity and the body gets tired.
Exercise or physical activity reduces the amount of adrenaline that our body releases during stress. In addition, our body responds to exercise in the same way that it responds to stress. That is, the heart rate increases, sweat flows from the body, and the person breathes deeper. When the body exercises these reactions during exercise, it can also better cope with stress.
THIS IS HOW YOU CAN PREVENT DIABETES!
Sports, sports and again sports
Be mobile. You are not going to prepare for the marathon. Between 30 and 60 minutes of exercise a day is helpful. Many say they do not have time for exercise, but that is no excuse. You can combine exercise with your daily life. For example, instead of going to work by car, go by bike or on foot. Use pads instead of lifts. Exercise is not only good for health, but also enjoyable.
diet
A healthy diet with enough whole grains, vegetables and omega-3 fatty acids can help reduce stress. Avoid starchy foods such as bread and pasta made from white flour, as these foods increase the body's insulin levels. High levels of insulin in the body can lead to inflammatory reactions in the body, which in turn has a negative effect on the brain. Fruits and vegetables, on the other hand, fight inflammation in the body. There are even substances that, if used regularly, have soothing properties. These include omega-3 fatty acids and tritophanes, which are amino acids found in some substances such as milk.
However, coffee is not good for people who are stressed or nervous because of caffeine. For such people, coffee not only keeps them awake, but also increases their heart rate, which the body recognizes as a stress signal.
Calm and relax the nerves
In addition to exercise and a healthy diet, using techniques to calm and relax the nerves also has a positive effect on reducing stress. Examples include yoga and meditation. These exercises are related to how you breathe. People with stress breathe very shallow. Shallow breathing triggers an automatic reaction in the body called the "fight or flight response." This reaction sends a message to the body that it is in danger and then the stress hormones are released. On the other hand, deep and slow breathing gives a relaxing reaction to the body. As a result, the human body relaxes and the stress hormones decrease.
Those who follow these habits in their daily lives will see the positive effects after two months. If this does not happen, you may need to see a doctor and get treatment.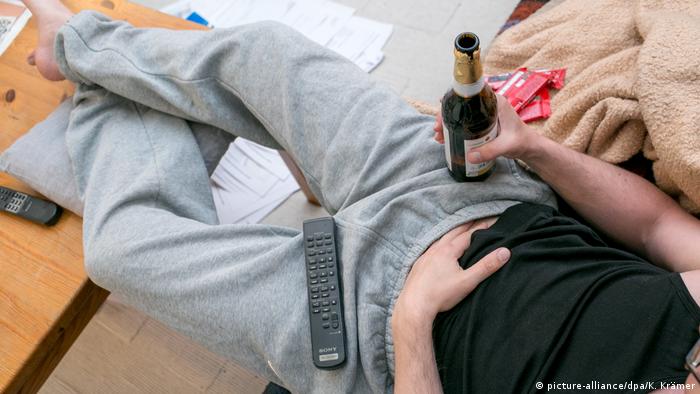 WHY IS A SEDENTARY LIFESTYLE DEADLY?
We do not move enough
A new report shows that the accuracy of the Germans has reached the lowest level in history. Less than 9% of people now have a "perfectly healthy lifestyle". The main problem is low mobility. On average, Germans spend about seven and a half hours sitting, but Germans are not the only ones, this is a global problem.