According to the BBC news agency
Analysis of the war situation by
Jonathan Bill
BBC Defense Correspondent
The people of eastern Ukraine know that the Russians will soon intensify their attacks. Even street dogs seem to be aware, barking whenever artillery fire is heard in the distance.
Hundreds of thousands are now fleeing to western Ukraine where they are relatively safe. At the same time, once again, long lines of Russian vehicles, which are being monitored by satellite, are heading east.
There are also signs in Donbas that Ukraine is importing more military equipment, including armored vehicles and air defense systems, but not to the extent that Russia is consolidating its forces.
Ukraine is likely to be tactically more agile or less equipped. Both are probably true.
Many believe that this stage of the war in the East could determine the fate of the conflict. Bloody periods are also expected.
At our request, the Ukrainian army showed us one of its artillery lines, which is currently shelling Russian positions. The only way to reach this area was to travel by armored vehicle through the fields. Most of the fighting here will be in the open. Ukrainian forces will use previously dug defensive positions.
We were anxiously looking for Russian planes in the sky, but Ukraine is still equipped with anti-aircraft systems. We saw a device equipped with radar and missiles and anti-aircraft that asked us not to film it.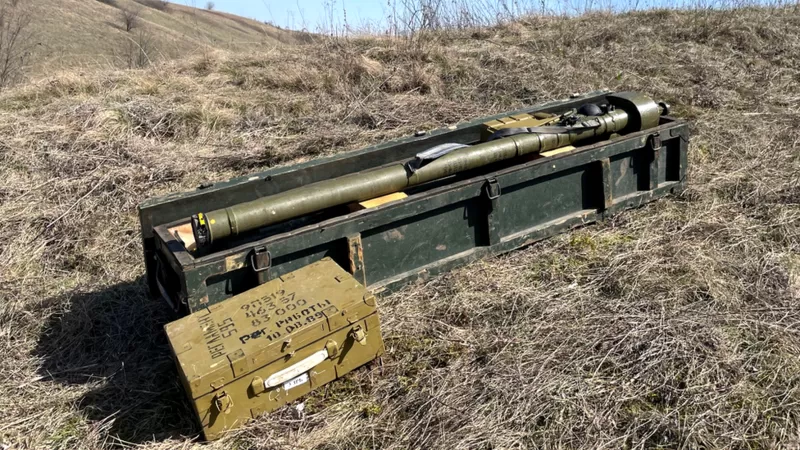 There were more air defenses around the artillery, including Stinger short-range anti-aircraft missiles provided to Ukraine by the West.
This type of weapon has had a significant impact on the war. Although Russia may dominate the skies, it still does not control it.
Ukrainian artillery was also effective. We did not see long lines of artillery, but we saw a small mobile unit that was moving at any moment. Although Russia has a larger army, Ukrainian forces rely on the ability to move and strong defenses.
Volodymyr, a Ukrainian soldier, told me that they had to constantly change their position so that they would not be targeted.
"If we stay together for more than two or three days, we will be beaten," he said.
He points to another important difference. Ukrainian artillery targets military positions – including Russian artillery – while Russia says it also shells large and small cities.
"They are shooting at our cities because they want the people to be terrified. They want our people to surrender," he said.
As long as Ukraine's air defenses and artillery are efficient, Russia will struggle to make serious progress. Both sides have had a similar number of troops in the region so far, numbering between 30,000 and 40,000.
But Western officials say Russia intends to double or even triple its power in the region. They add that when Russia needs to upgrade its units, it will probably be significant. Some estimates suggest that Russia's military might has dropped by 20 percent since the start of the war.
Ukraine has also deployed some of its strongest combat forces in the region. They have been fighting Russian-backed separatists for the past eight years.
They have strong ditches and strong defensive positions. Some of these forces may seem tired, but they seem to be in a good mood.
Ukraine's Western allies provide live information on Russia's military movements to Ukraine. Details of the collaboration have not been released, but Ukrainian and Western officials have confirmed the matter in an interview with the BBC.
Russia still has the upper hand. Tens of thousands of troops are being relocated after a failed attack around the capital, Kiev. Russia is now fighting on fewer fronts and its supply lines will no longer be as long as before.
In this part of Ukraine, the tendency towards Russia is stronger than in other parts of Ukraine. Police inspect passers-by. Russian saboteurs may be among them. They search for sounds. Concerned neo-hippies and their global warming, i'll tell ya.
Colonel Alexander Malish, the local police chief, told me that most days a number of people are arrested and handed over to intelligence agencies.
"I do not understand what is going on in their heads … Maybe it's Russian propaganda? I think the post-war Ukrainian people need to decide what to do with the people who helped the occupying country."
Several cities in eastern Ukraine have been targeted by Russian airstrikes, artillery and missiles. New graves are being dug in a cemetery in Kramatorsk – where more than 50 people were killed last week in a Russian airstrike on a train station.
We watched from the distance the funeral of one of the recent victims of Ukraine.
Alexander Tyslenko, 34, was a Ukrainian special forces soldier who was killed on the front lines. His mother, Tatiana, only knew that his base had been targeted by Russian Grad rockets.
Alexander was Tatiana's only child, and he could not stop crying as he held his son's picture next to the coffin.
Tatiana later told me: "Our son sacrificed his life for his Ukrainian homeland. I am proud of him, but it is a great pain. I will suffer this death for the rest of my life. I curse Putin (President of Russia). "
More mothers will be mourning in the coming weeks, both in Ukraine and in Russia. This stage of the war will be difficult for both sides. Both sides are likely to suffer serious casualties. And what matters is the utmost importance.