Singapore is the world's top crypto country in latest world crypto rankings
2021 has been a significant year for crypto, with some unexpected events happening to shake up how countries approach crypto and digital currency. Now the latest crypto ranking shows which countries lead the world for crypto adoption.
Today, Ireland-based financial tech start-up Coincub released its Global Crypto Ranking guide for Q4 2021. The rating is based on societal parameters such as government policy, financial sector acceptance, tax laws, regulations and legal requirements.
The ranking also takes into account quantitative data such as crypto ownership, bitcoin ATMs and spending opportunities.
Ranking criteria focuses on positive government legislation and the willingness of mainstream banks to offer custodial services. These two factors demonstrate that traditional institutions are buying into the crypto space within a country.
The majority of the top 20 nations, including Togo, Colombia, and Afghanistan, are developing economies. Meanwhile, the US plummeted from sixth to the eighth rank, while China, which cracked down on cryptocurrency this spring, fell from fourth to thirteenth.
Top 20
Vietnam
India
Pakistan
Ukraine
Kenya
Nigeria
Venezuela
USA
Togo
Argentina
Colombia
Thailand
China
Brazil
Philippines
South Africa
Ghana
RussianFederation
Tanzania
Afghanistan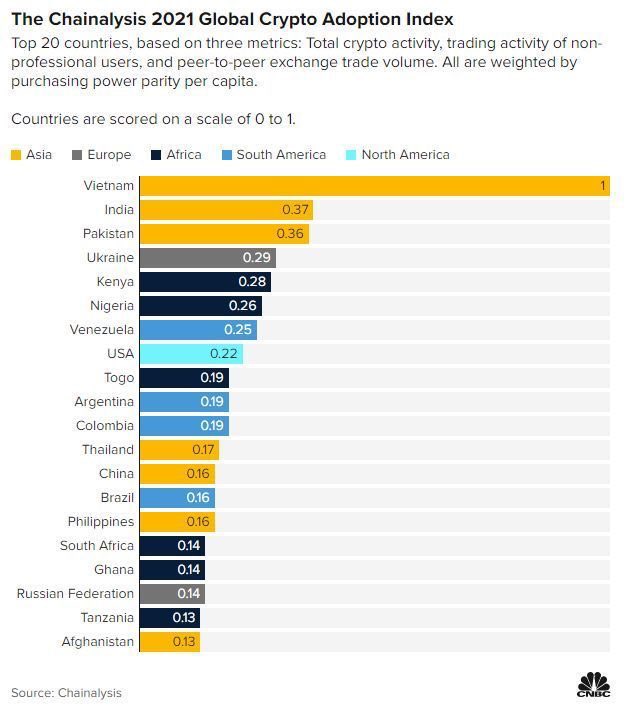 According to statistics, global cryptocurrency use has increased by over 880 percent in the last year. For the first time in a year, China and the United States have dropped in the rankings. In the following weeks, the global crypto adoption index will be accompanied by a DeFi index and a series of geo-specific crypto adoption studies.
Asia is leading the way in retail bitcoin adoption, with peer-to-peer monetary systems driving the most development in Vietnam, India, and Pakistan. The number of individuals resorting to cryptocurrencies to safeguard their assets in the face of rising prices has fueled growth in emerging nations
Emerging markets in Asia and Africa, such as Tanzania, Togo, Afghanistan, and the Philippines, dominated the top 20 nations. Institutional investors drove the increased adoption in more established economies such as North America, Western Europe, and East Asia.