Euro international News : Some Iranian media outlets have released a video showing a convoy of Iranian tanks and armored forces moving toward the Afghan border. The division is said to have been sent following continuing border tensions with Taliban forces.
On the morning of Tuesday, May 26, the online news site released a video announcing the movement of the 7th Armored Division of Zahedan towards the Iran-Afghanistan border. Shafaqna news agency also wrote that the deployment of Iranian armored forces followed the continuation of border tensions between Iran and Taliban forces. 
What has been the tension?
Tensions erupted between border guards of the Islamic Republic and Afghanistan at the Dogharun terminal on Saturday, May 23rd, leading to the temporary closure of the border crossing. Fars News Agency quoted eyewitnesses as saying that the Taliban border forces wanted to build a road in the border area of ​​the two countries, but were opposed by the border guards of the Islamic Republic of Iran.
Iranian Foreign Ministry spokesman Saeed Khatibzadeh told the media on Monday that he hoped "the restraint of the Iranian border guards on the border between the two countries" did not lead to a misunderstanding between the two sides. "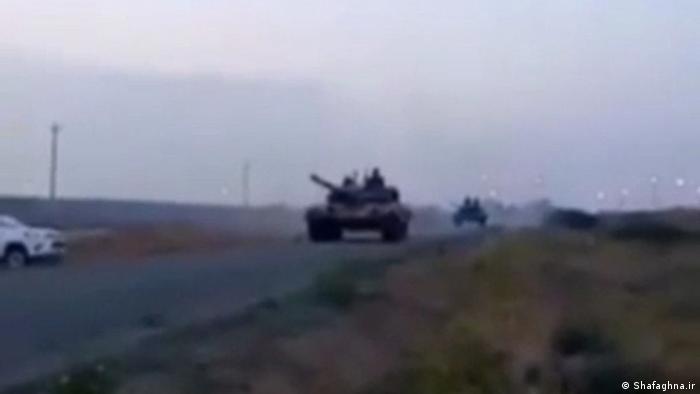 "Border tensions between the two sides have ended and the operation of the Islam Qala crossing has returned to normal after a day of suspension," Khatibzadeh was quoted as saying by the Taliban.
"Tensions between the two sides are based on a misunderstanding and have been fully resolved," Taliban Defense Ministry spokesman Enayatullah Kharazmi was quoted as saying by Shafaqna news agency.
According to the report, Taliban Minister of Refugees Khalil-ur-Rehman Haqqani is scheduled to travel to Iran to resolve tensions between the Iranian and Afghan border guards and to address the plight of Afghan refugees on the eve of Eid al-Fitr.
Haqqani's visit comes as, in addition to border tensions, there have been numerous reports of "mistreatment of Afghan refugees" in Iran in recent weeks, and rallies have been held in various Afghan cities to protest the issue. Videos posted on social media showed the Iranian military harassing Afghan refugees. 
About two weeks ago, a number of Afghan citizens demonstrated in several cities across the country to protest the "mistreatment of Afghan refugees in Iran" and set fire to the front of the Islamic Republic's consulate in Herat.
According to the latest news, the situation on the border between the two countries is currently "normal".