Toronto; A city the size of the world
Almost all people who choose to travel to Toronto are those who are looking to immigrate to Canada, which is why half of the city's population is non-Canadian. This diversity of different nationalities has created a unique cultural diversity in Toronto, with residents from different countries with 140 different languages. Canada is the second largest country in the world after Russia, but many parts of it can not be inhabited due to severe cold. Major cities and the southern half of the country are also not immune to cold winters, and snow and ice are often seen during the colder months of the year in Toronto and other cities.
Best time to visit Toronto
Toronto has a very cold and snowy climate; If you can not stand the cold more than minus 20 degrees, think about traveling to Toronto in the winter. The best time to visit Toronto is summer. It gets warmer in late spring, and you can travel to Toronto until early fall, before the long cold starts.
Entertainment in Toronto
Almost the first thing to notice in Toronto is the city's tall CN Tower, which should not be missed; A 553-meter-high tower where adventurous people can walk from a section known as the Edge Walk from a distance of 365 meters in a space of 1.5 meters and watch the city under their feet. Activities such as visiting museums, galleries, and exploring the beautiful nature of Lake Ontario are also available to Toronto residents and tourists.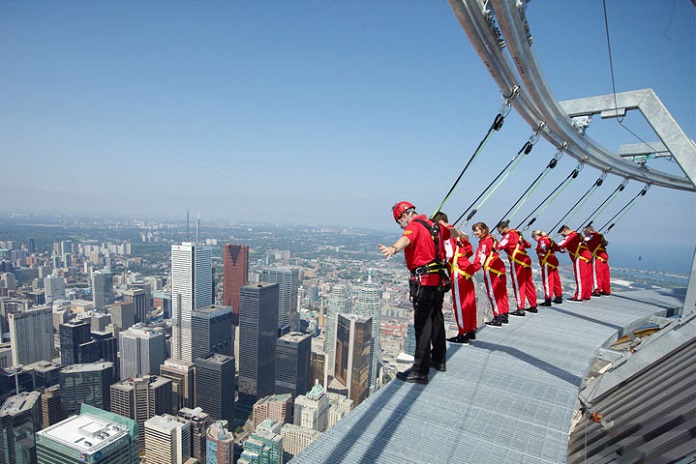 Food in Toronto
In Toronto with different nationalities you will not have to worry about food; Because both world-famous food is available to you and fast food can be seen all over the city. Ethnic diversity in this city also brings food diversity and you can taste the food of different countries.
Travel expenses to Toronto
Toronto is farther away from European cities than Iran, and tickets are almost as expensive. Of course, the distance is not the only reason why travel to Toronto is expensive, and the costs of this city from food to hotel accommodation are also expensive. For this reason, do not expect to be able to travel to this city at a low cost, and before you start your trip to Toronto, be prepared for its high costs.
Buy Toronto Tickets
Although there is no direct flight from Iran to Toronto, you can easily buy a Toronto ticket from Iran. With airlines such as British Airways, Alitalia, Turkey, UAE, Ukraine International, etc., you can buy a one-stop ticket to Toronto.