Former German star Mesut Özil praised Atlas Lions and wished success to this team.
Mesut Ozil praised the Moroccan national team, which was able to prevail against the strong Portuguese team in the quarter-finals of the World Cup.
In the group stage of the tournament, Atlas Lions managed to advance to the elimination stage as the first team with seven points, ahead of Croatia and Belgium.
The historic victory of the Moroccans and advancing to the semi-finals of the World Cup as the first African team marked a new history for the Atlas Lions and also caused the reaction of many famous stars in the world of football.
The Moroccan national football team has been a big surprise for the 2022 Qatar World Cup by eliminating Spain and Portugal.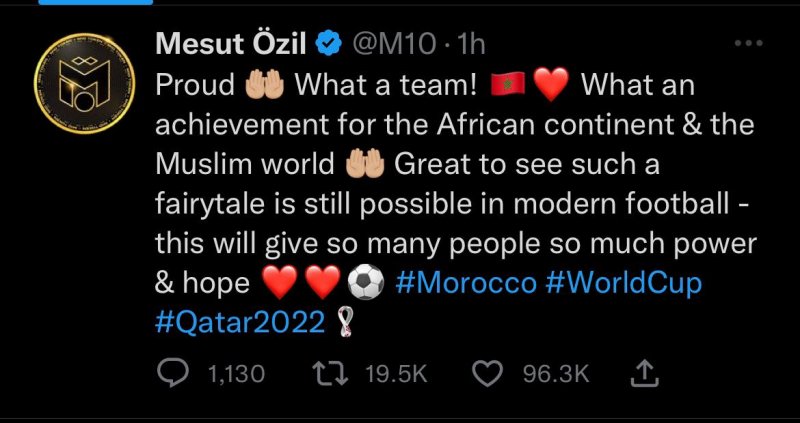 Ozil wrote in a message to Moroccans: I am proud of Morocco. It's a great team. What a great achievement Morocco has brought to the African continent and the Islamic world. The continuation of such fantasy stories in football is very interesting and I hope that the story of Morocco continues.
In the semi-final stage of the World Cup on Wednesday (December 23) from 22:30, the Atlas Lions will line up against Yaran Mbappe, who is the defending champion in this cup.