Despite Western sanctions, especially from the United States, on Moscow ‌ Ukrainian President Vladimir Zilensky said early Friday morning (February 25) that his country was "alone" in the fight against Russia.
"We are left alone to defend our government," Mr Zilenski told the nation in a televised address.
"Who is ready to fight with us? I do not see anyone. Who is ready to guarantee Ukraine NATO membership? Everyone is afraid," he added.
President Zielinsky's remarks came a day after the Kremlin launched a major offensive against Ukraine.
AFP quoted Mr Zilensky as saying that on the first day of Russia's invasion, 137 Ukrainians, including civilians and civilians, were killed and 316 wounded.
President Zilensky also said that Russian "destructive groups" had entered Kiev, the capital of Ukraine, and called on the people of that city to be vigilant and to comply with traffic restrictions.
Mr Zilensky added that although Russia had identified him as "the number one target", he and his family had remained in Ukraine.
"They [Russian officials] want to destroy Ukraine politically by ousting the head of state," said President Zielinsky.
Mr Zilensky's remarks came just hours after US President Joe Biden said on Thursday (February 24th) in response to Russia's invasion of Ukraine that "Putin is an aggressor, he has chosen this war and the price is heavy." Will pay it.
Mr Biden said he had imposed new sanctions and restrictions on Moscow, which he said would have a negative impact on the Russian economy in the short and long term.
President Biden, speaking Thursday with leaders of the world's seven largest economies known as the G-1, said everyone had agreed to limit Russia's ability to trade economically with the dollar, the euro, the British pound, and the Japanese yen.
Mr Biden said he had allowed more US troops to be deployed to support what he said was Baltic allies – Estonia, Latvia and Lithuania – in the face of Russian threats, and vowed that Washington would defend NATO territory with all its might. He reiterated that the United States would not send troops to Ukraine to fight Russia.
Meanwhile, Ukrainian Foreign Minister Dmitry Kolba announced in a tweet on Friday (February 25th) that Russia had launched a "horrific" rocket attack on its capital, Kiev.
Mr Kolba wrote on his official Twitter page: "The last time our capital experienced such a thing was in 1941 when it was attacked by Nazi Germany. Ukraine defeated that [German Nazi] and this [Russian military invasion] "He will defeat Putin. Stop Putin. Isolate Russia. Cut all ties. Expel Russia from everywhere."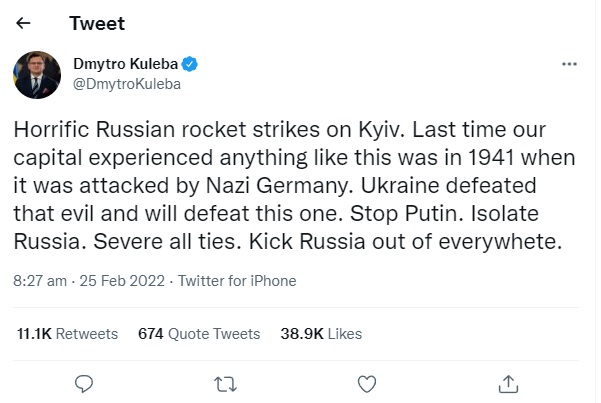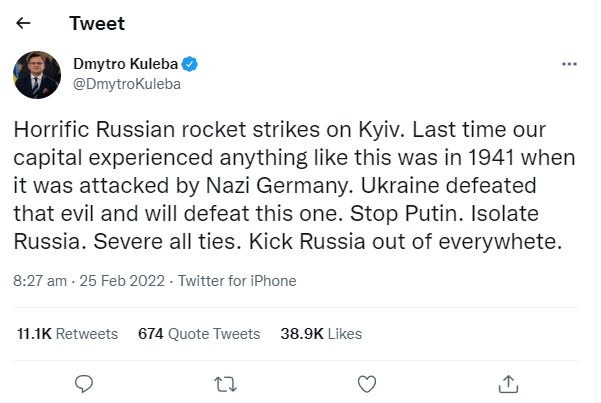 Russian President Vladimir Putin announced a military operation in Ukraine on the morning of Thursday (February 24th) and warned other countries that any interference with Russia's actions would have "consequences they have never seen."
President Putin has said that the purpose of the Russian military operation is to "demilitarize" Ukraine in order to protect civilians in eastern Ukraine, and called on Ukrainian forces to "immediately lay down their weapons" and go to their homes, otherwise Ukrainian soldiers. They will be responsible for the bloodshed.
Despite the United States imposing severe economic sanctions on Russia, President Biden reiterated on Thursday that Washington had no plans to send troops to Ukraine to fight Russian troops.