The penis is an organ (no, not a muscle) that's made primarily of spongey tissue. This spongey tissue fills with blood to cause an erection, so you can have penetrative solo or partnered sex.
It looks pretty straightforward, but a penis is actually quite complex, It consists of the glans (head), corpus (shaft), and prepuce (foreskin). It's also home to the urethra — the thin tube through which urine and semen exits the body.
What's the typical shape, size, and other characteristics?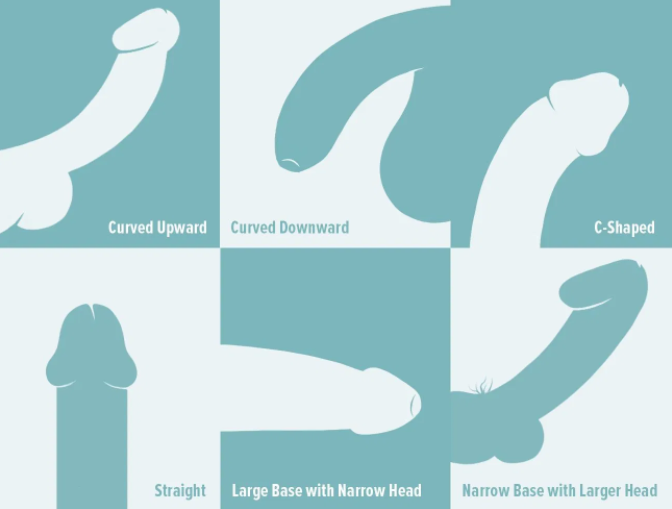 If there's anything typical about penis shape, it's that most tend to be cylindrical, often with a wider — or at least a more pronounced — head.
Curved upward
Like a banana, this penis curves slightly upward, at least when it's erect.
Orgasms aren't the be-all and end-all of partnered sex, but having the upward curve provides an advantage by making it easier to stimulate the G-spot, A-spot, and prostate.
Pro tip: You can keep it simple with any variation of the missionary position and still rock their world thanks to that curve. That goes for penis-in-vagina (P-in-V) and anal sex.
Curved downward
The curved downward penis is just as it sounds: a penis that, when hard, has a slight downward curve. Think: A banana turned upside down.
Like your upward counterpart, your curve also gives you an edge when it comes to reaching the hot spots that run along the front wall of the vagina or rectum.
The key to making the most of the curve is flipping your partner(s) around to get you closer to those pleasure spots.
Pro tip: Turn that frown upside down with rear-entry positions.
C-shaped
This type of penis has a noticeable curve to the right. If you or a partner is rockin' a curve, a willingness to experiment with different angles will help you find what works for everyone.
Positions that allow you to work the curve toward the front wall of the vagina or rectum give you the same hot-spot advantage as those with banana shapes.
Pro tip: Try the T-bone. This position begins with the penetrating partner on their side with their curve pointed toward the sky. The receiving partner lies on their back in a T angle and drapes their legs over their partner's hip, ready for P-in-V or anal.
Straight
The straight penis maintains pretty much the same shape from shaft to head.
With no angles to accommodate, you can eenie-meenie-miney-mo your way through every sex position you both consent to with little-to-no tweaking required.
Pro tip: Give and get the most with any position that makes it easy to reach each other's erogenous zones for simultaneous, manual, or sex toy play.
Bigger base with narrow head
This penis is thicker at the base and narrows as you get closer to the head, giving it a cone shape.
Like all shapes, this one's got some solid perks. The narrower head makes for easier entry, and a wider base provides more stimulation the deeper you go.
Pro tip: If you're both open to anal, the cone is basically built for butt play (just like butt plugs) because the gradual increase in girth helps stretch the anus. Use a lot of lube and tease with just the tip before going deeper.
Narrow base with larger head
The hammer penis, which is long and thin with a much larger head, has all the makings for a good nailing. Wink.
The extra girth at the tip stimulates the vaginal or rectal walls, creating friction that'll feel good for both.
Pro tip: Choose positions that allow the receiver to open wide and stimulate their clit or peen at the same time for easier entry. Classics positions, like missionary and cow, are totally hammer-friendly.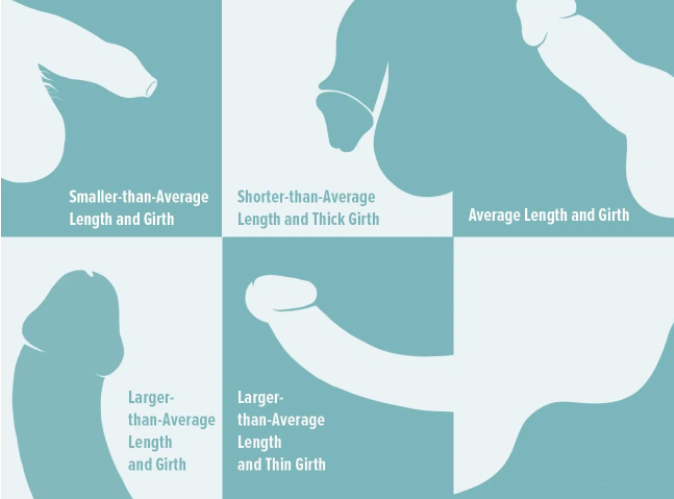 Penises don't just come in different shapes. They come in a variety of lengths and thicknesses, too. Regardless of the combo you're working with, the right moves can make them all pleasurable.
Smaller-than-average length and girth
The "gherkin" falls on the shorter and narrower side of average. Don't you dare knock the smaller stature, because porn-sized D's aren't necessary for amazing sex.
Pro tip: If you want to go deep, some positions are better than others. Doggy style is one of the best for P-in-V or anal sex if you each like it deep. If you're flexible, the pile driver is fantastic.
Shorter-than-average length and thick girth
The "kielbasa" is shorter, stout, and able to stimulate the vaginal or rectal walls like nobody's business.
There are oodles of sensitive nerve-endings packed in and around either entry point, so the shorter length makes for some pretty toe-curling penetration for both parties.
Pro tip: Use lots of lube, take it slow, and master the dog positions, like traditional doggy or downward-facing dog (yes, like the yoga pose), if you want to go deep and hit the G-, A-, or P-spot.
Average length and girth
Congrats, Goldicocks! The "cucumber" isn't too big or too small, but just right for any position you want to try — no tweaking necessary.
Pro tip: Experiment to find your most mind-blowing positions. Try variations on all the classics, and throw some standing sex positions into the mix.
Larger-than-average length and girth
The "salami" is the type of appendage you're most likely to see in porn: long and thick. While it may leave some jumping for joy, it can also be a little daunting to take in — literally.
The key to making the most of it is to use lots of lube and try positions that let the receiver have more control.
Pro tip: Lube up, and try positions that allow the partner on the receiving end to keep their legs tight to control the depth. You can do this with missionary, spooning, and even rear-entry positions.
Larger-than-average length and thin girth
To be clear, the "pencil" type isn't actually pencil-thin, but it's notably longer and narrower than average.
To make the best use of a thin penis, stick to tight-legged positions. The tighter space is pleasurable for all and still lets the receiver control how much of the length they take in.
Pro tip: Try spooning. Coming in from behind creates a tight space and requires extra length — which this type's got — to reach. Spooning also works for anal and can be ramped up by adding a dildo for some DP action. You're welcome.