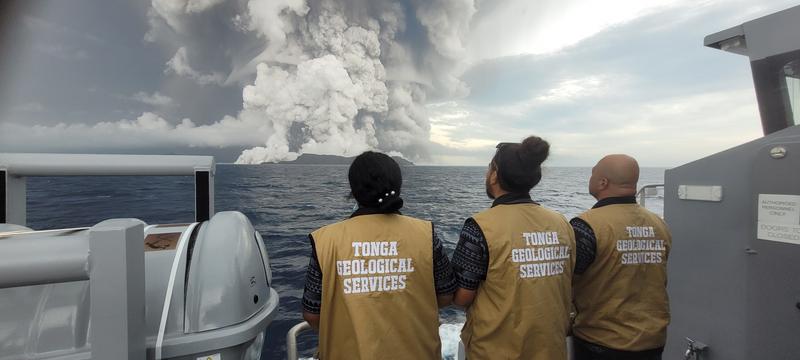 (CNN Report) tsunami An underwater volcano near Tonga has erupted for the third time in four days, potentially threatening the ability of surveillance flights to assess the damage to the Pacific island nation following Saturday's massive eruption and tsunami. Australia's meteorological service said a "large eruption" took place at the Hunga Tonga-Hunga Ha'apai volcano on Monday, but no tsunami warnings have been issued. Saturday's eruption was likely the biggest recorded anywhere on the planet in more than 30 years, according to experts. Dramatic images from space captured the eruption in real-time, as a huge plume of ash, gas, and steam was spewed up to 20 kilometers (12.4 miles) into the atmosphere — and tsunami waves were sent crashing across the Pacific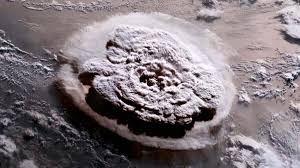 On social media, footage showed people fleeing as waves inundated Tonga's capital, Nuku'alofa, and the afternoon sky turned pitch black due to the heavy ash cloud. Tsunami waves were also recorded thousands of miles away along the United States' West Coast, in Peru, New Zealand, and Japan. In Peru, at least two people died after being swept up by high waves.
No mass casualties have yet been reported, but aid organizations are concerned about contaminated air and access to clean water for people in Tonga's outlying islands.With communications down, Australia and New Zealand sent flights to survey the damage.Here's what we know about the eruption and fallout.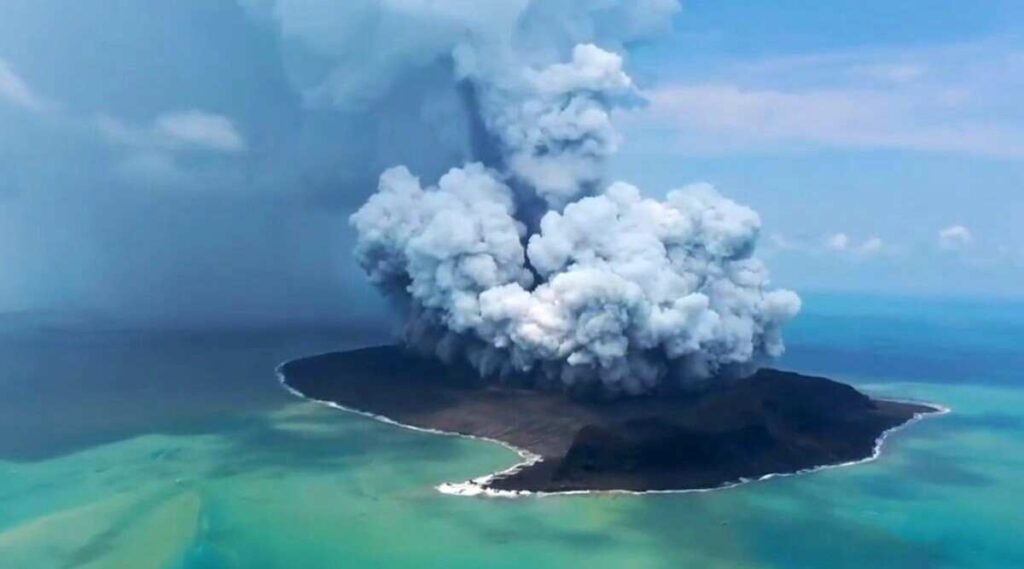 Where is Tonga's Hunga-Tonga-Hunga-Ha'apai volcano?
Tonga is a Polynesian country of more than 170 South Pacific islands and home to about 100,000 people. It's a remote archipelago that lies about 800 kilometers (500 miles) east of Fiji and 2,380 kilometers (1,500 miles) from New Zealand. The Hunga-Tonga-Hunga-Ha'apai volcano, about 30 kilometers (20 miles) southeast of Tonga's Fonuafo'ou island, sits underwater between two small islands at about 2,000 meters (6,500 feet) high from the seafloor, with about 100 meters (328 feet) visible above sea level.
Tsunami warnings and advisories were also issued from parts of New Zealand, Japan and Peru, to the United States and Canada's British Columbia.In Japan, the northeastern prefecture of Iwate saw waves as high as 2.7 meters (9 feet) and multiple smaller tsunamis were reported in numerous other locations, according to public broadcaster NHK. By Sunday afternoon, all tsunami advisories had been lifted in Japan.The eruption also sent waves to the US West Coast, with some exceeding 3 and 4 feet in height, according to the National Weather Service office in San Diego. Tsunami waves were felt in California, Alaska and Hawaii.